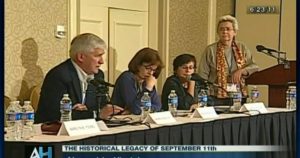 Recent interviews:
On Al Jazeera (Arabic) on definitions of terrorism in the wake of recent domestic attacks in the US. Nov. 4, 2017.
"What is an Evangelical?" on MindPop podcast, Sept. 2, 2017.
Al Jazeera (English) on Hollywood and the War Machine, August 9, 2012.
On Religion and Ethics Newsweekly, Feb. 2011, on Islam in global politics.
Here are video links to a few of the public lectures I've given.
Banned: The Middle East and Its Diasporas. Joint lecture with Evelyn Alsultany at Brown University, September 2017.
Congo Crisis: U.S. Evangelicals, Congolese Christians, Race, and Decolonization, Wheaton College, Billy Graham Center archives lecture, September 2014.
What Would Jesus Do? Evangelicals, Iraq, and the Torture Debate, Franklin and Marshall College, October 2012.
"The Persecuted Body" at the University College, Dublin, Clinton Institute.
 Historical Legacy of Sept. 11, panel at Society for Historians of American Foreign Relations, June 2011.
September 11 Digital Archive Panel, Library of Congress panel on collecting the history of 9/11, September 2003. (My presentation begins 35 minutes in.)