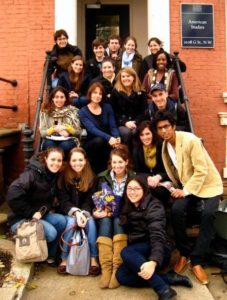 As a professor of American Studies and international affairs, I teach a broad range of courses at GW. My undergraduate courses include large lecture surveys on the history of US media and popular culture and on the history of the US in the World, as well as smaller seminars on American studies methods for cultural analysis ("Critiquing Culture") and on US-Middle
East Cultural Encounters. In spring 2017 I taught a class called "The Politics of 'Saving Africa'."
My graduate classes range similarly, from seminars on the US in the World to religion and media. I have been fortunate to work with a range of outstanding PhD and MA students, many of whom have gone on to careers in academia, public history and culture, or journalism. PhD students whose dissertations I've directed do work ranging from the history of popular culture to disability studies to US empire.
In general, my areas of teaching are:
US in the World
US media and popular culture
Religion and media
Methods and theories of cultural studies
US-Middle East cultural encounters
Humanitarianism and human rights
My work with graduate students centers on media and cultural history, US in the world, and religion, particularly Christianity. I have a personal and academic interest in science fiction and speculative fiction, both literature and film.