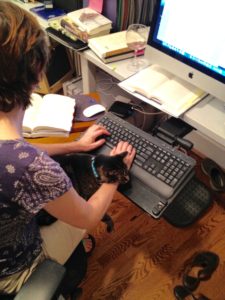 "Seeking Stranger Things," part of the series, "Is This All There Is?," on The Immanent Frame, blog of the Social Science Research Council, September 2017.
"Maryland Bills Would Stifle Academic Freedom," Baltimore Sun, February 12, 2014.
"The State Department finds Religion, but Whose?" Religion Dispatches, December 12, 2013.
"Guess Who's Coming to Dinner: American Missionaries, The Problem of Racism, and Decolonization in the Congo." OAH Magazine of History, 26 (Summer 2012), 33-37.
Invited Contributor to "Frequencies, Genealogies of Spirituality." Sponsored by the Social Science Research Council. Entry on B.K.S. Iyengar. Oct. 13, 2011.
Republished in "On Being," blog of the public radio show hosted by Krista Tippett. April 2015.
"The Persecuted Body: American Evangelicals, Islam and Religious Suffering." Middle East Report. December 2008.
"An Empire of Their Own." The Nation. September 22, 2003.
Reprinted in Good Weekend Magazine, supplement to Australia's two largest newspapers.
"Saving Private Lynch." New York Times op-ed page. April 6, 2003.
"Armageddon on the Bestseller List." Washington Post, Outlook section. February 2, 2003.
"Television, Terrorism, and the Making of Incomprehension." The Chronicle (of Higher Education) Review. December 7, 2001.