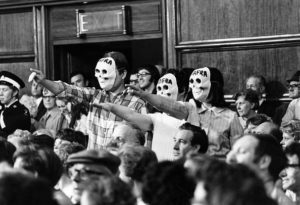 I have begun working on a book that examines the global response to the Biafra crisis – the events surrounding the civil war in Nigeria from 1967-70. The study is tentatively titled, "'Keep Biafra Alive!': Religion, Global Media, and Popular Humanitarianism during Nigeria's Civil War," and I am thrilled to say that the project is being supported by the National Endowment for the Humanities, which will allow me that chance to do research in the US, Europe, and Nigeria in 2017-18. The research has also been supported by a GW University Facilitating Fund grant and a Dean's Research Chair.
The book will explore the involvement of both religious and secular NGOs in the US and Europe in crafting a humanitarian response to the war and particularly to the images of starving children that circulated globally. It examines the international affairs projects of ordinary people, exploring how the humanitarian politics surrounding Biafra emerged in a global context, including the social movements that responded to the Vietnam War and apartheid. The book explores the history of international relations, broadly conceived, by combining media studies, visual culture analysis, social movement history, religious studies, and political history.
I have also begun research for a different book, on the history of postcolonial literature and art in the United States from the mid-1960s to the late 1980s. My goal is to explore how novels, plays, and painting from Africa and the Middle East circulated in the US, providing alternatives to some of the standard narratives of the Cold War. I think of it as being a history that goes from the Battle of Algiers (1966) to Decolonizing the Mind (1986).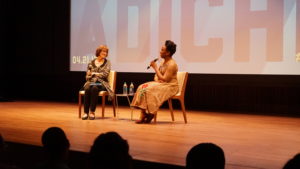 As part of my interest in Biafra, I worked with two other GW faculty members to organize a spring 2017 conference, http://www.rememberingbiafra.com/, to mark the 50th anniversary of the start of the Biafra war. Chimamanda Ngozi Adichie was the keynote speaker, at an event held at the National Museum of African American History and Culture.  (Yes, there I am, doing a Q&A with her!) I am currently working on a digital humanities project, sponsored by GW's Institute for African Studies, that will create a timeline and other resources for teachers and students who want to teach about Biafra.
In addition, I am co-editing volume 4 of the forthcoming Cambridge History of the US in the World, along with Max Friedman and David Engerman. The general editor of this exciting (and massive) project is Mark Bradley. I am also beginning some work on a future project that will explore how literature and art from the Middle East and Africa circulated in the United States from the mid-1960s to 1989, providing alternative narratives to the Cold War construction of the Third World.
I am very involved with the Society for Historians of American Foreign Relations, and am on the editorial board for the new journal Modern American History as well as American Quarterly.